The Bands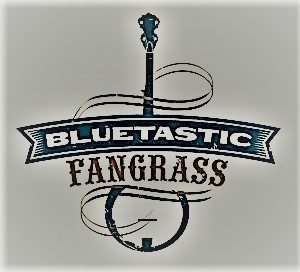 BLUETASTIC FANGRASS ~ "THE BLUETASTICS"
"Lou Wamp's slide rules!" ~ Joe Ross, Bluegrass Now
Instrumental prowess showcases both traditional and original material based in bluegrass, swing, & swampy blues. From haunting to barn-burning, the show features Lou's incredible dobro and slide talents plus a band of players that can go there with him. Lou is a 30+ year veteran of the bluegrass stage, having toured with such nationally known acts as James Monroe & the Midnight Ramblers and Blue Moon Rising. Wamp's band of hot pickers also includes Brad Frazier on lilting lead vocals and guitar, the legendary Jim Pankey on banjo, amazingly talented fiddle champ Meredith Goins, 3-time National Flatpicking Champion Roy Curry on lead guitar, and Lynn Wamp rockin' the bass. It's a slightly dyslexic look at Fantastic Bluegrass. And if it's true "there's no money above the fourth fret" then these guys are bound for the poorhouse, but it'll be a wild ride!
Check out our Facebook page, too, and give us a "thumbs up"!  https://www.facebook.com/pages /Bluetastic-Fangrass/103811812992078?ref=tn_tnmn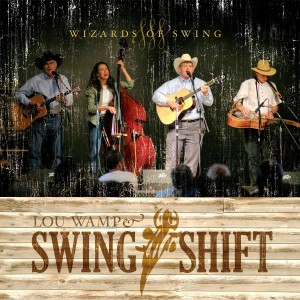 SWING SHIFT
"Lou Wamp's tremendously entertaining western swing band, Swing Shift, is a treasure. Don Hopkins on lead vocals is the real deal." ~Bruce Kaplan, Barking Legs Theatre, Chattanooga, TN
Lou Wamp has assembled an array of talented pickers and singers to augment his virtuosic slide guitar playing resulting in the formation of Swing Shift, a group that goes from western swing to Americana & jazz to new acoustic sounds with adept precision and renditions that will have you tapping your toes to outright up and dancing. An infectious sound that crowds can't seem to get enough of harkens back to the Texas tearooms and dance halls of the '40s, yet remains forever fresh and new. You'll hear some western swing classics, some jazz, some country, and original tunes by Don Hopkins and Lou Wamp, backed up by the swingin'-est rhythm section this side of the Rio Grande, Chris Hopkins on guitar and Lynn Wamp on bass. There is something for everyone here, and everyone goes away smiling with a song stuck in their head!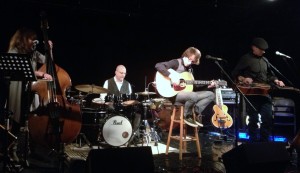 THE VON WAMPS
"The VonWamps have a bright future."~Robert Posey, Chattanooga Music Critic
Lou, Lynn, and Daniel Wamp anchor a musical venture that crosses genres and generations, performing an eclectic and high-spirited mix of their own compositions as well as a constantly evolving setlist of Americana favorites from folk, swing, and jazz to country, rock, and bluegrass, all to which they add their own acoustic or electric flair. Along with the talented Bob Stagner on drums/percussion, they will always surprise and delight, musically.