Bio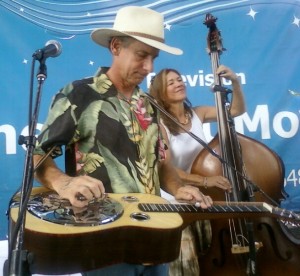 Lou Wamp has played some kind of instrument as long as he can remember. Born at Ft. Benning, GA, he grew up hearing his grandfather play "Travis style" guitar and became enamored with stringed instruments. He studied music at Cadek Conservatory in Chattanooga, and fine art at the University of Tennnessee (BA, 1980). In the late 70's he fell in love with the resonator guitar (dobro) and, like Jerry Douglas, began to explore it as an instrument without creative limitations.
He became a close friend of the late Gene Wooten (Osborne Bros.) in Nashville and credits Gene with much of his stylistic formation. He has since toured in bands Hiwassee Ridge, James Monroe and the Midnight Ramblers, The Dismembered Tennesseans, and Blue Moon Rising, and now manages performing bands, Swing Shift, Bluetastic Fangrass, and The Von Wamps.
He has performed across the Southeast and beyond for over 30 years including the 1982 World's Fair, IBMA Showcases, Memphis in May, Riverbend Festival, 3 Sisters Festival and many others. In 2009 he was asked to be on the faculty at Reso Summit in Nashville, along with Rob Ickes, Mike Witcher, Sally Van Meter, Cindy Cashdollar, and other fine players.
In 2005, he released "ResOlution", a CD project of mostly original music produced by Butch Baldassari."It's my favorite recording of my work so far," says Lou, "because it showcases the fact that my style can't really be pigeon-holed. Byron House came up with a great description of it: 'ArtGrass'. That pretty much says it all".
He works (http://louiswamp.com ), teaches dobro lessons and workshops, and performs regularly in and around Chattanooga and the southeast.